Verdify raises € 1.3 million to scale its Swapmeals® platform for personalised recipes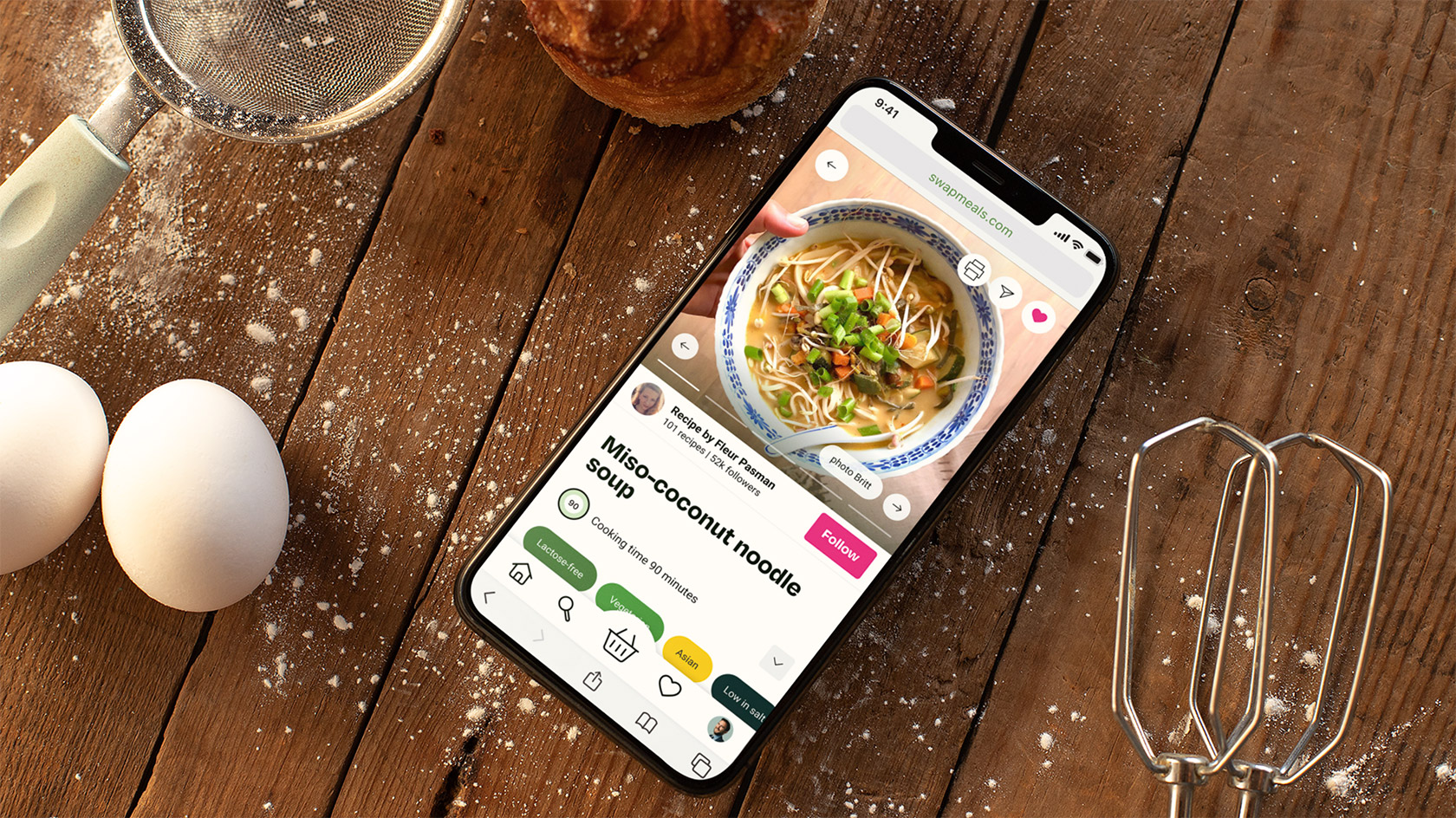 Please scroll down for Dutch version
Venlo, The Netherlands, 13 December 2021
Swapmeals® helps consumers swap recipe ingredients to match their taste and lifestyle
Verdify (Venlo, The Netherlands) has raised €1.3 million financing from Brightlands Venture Partners, Joles and the company's founders. The investment will be used by Verdify to scale up its Swapmeals® recipe platform that enables consumers to get tailored meal inspiration based on personal nutrition profiles. This round follows last year's capital injection of €750,000 for developing and launching the platform in the UK and The Netherlands.
True personalisation
Consumers are increasingly on the lookout for a healthy and sustainable diet but struggle with the complexity of food choices. Verdify aims to tackle this issue by providing truly personalised recipe inspiration. This is accomplished on Swapmeals.com where recipes automatically adapt to consumers' individual nutrition profiles. Personal parameters such as health conditions, food allergies, activity levels, lifestyle, location and taste preferences can be factored in. Swapmeals® offers an enabling environment where the healthy and sustainable food choice becomes the default. The personal nutrition profiles can be easily created by consumers on the Verdify website and activated on Swapmeals.com to find fully personalised and shoppable recipes.
The personalisation engine
Under the hood of the platform is Verdify's recipe personalisation engine that can map the composition of virtually all recipes on the internet and tailor them according to consumer nutrition profiles. A proprietary swapping algorithm replaces non-matching ingredients with suitable alternatives whilst another algorithm 'rewrites' the recipe instructions according to the new composition. The software makes sure the result is still tasty and nutritious. Verdify can enable personalisation on any other recipe platform with its engine, as well as link recipes to the digital shopping basket of local retailers.
Plans for growth
The investment will be used for scaling up the Swapmeals® platform, including introduction of the concept into the healthcare domain. This will enable consumers to receive nutritional advice from dietitians and medical professionals directly in their Verdify nutrition profile. Furthermore, it will be possible to enrich the profile with data from wearables and biomarker tests. Besides that, Verdify can support companies in the food industry by promoting their brands in personalised recipes on Swapmeals® – creating a podium for products that Verdify endorses.
Kim de Boer, Partner at Brightlands Venture Partners: "We believe Verdify responds to a clear and logical market need in personalised nutrition. This is a fast scalable business in which Verdify is a forerunner. Brightlands Venture Partners is an ecosystem investor and we believe that the interaction of the company with the Brightlands ecosystem in the field of personalised nutrition and available AI knowledge will be beneficial for the company's time to market and chances of success".
Jochem Bossenbroek, CEO at Verdify: "In our endeavour to create lasting impact on people's lives through healthy and sustainable eating we have found a strong companion in Brightlands Venture Partners. With the new investment and access to this innovative ecosystem we can not only scale up, but also build a bridge between the healthcare domain and the food sector".
About Brightlands Venture Partners
Brightlands Venture Partners (BVP) is the fund manager of Brightlands Agrifood Fund and is a so-called ecosystem investor. BVP invests in companies benefiting from and contributing to the Brightlands campuses in the south of The Netherlands. Funds under management are BVP fund IV, Brightlands Agrifood Fund, Chemelot Ventures and Limburg Ventures.
About Joles B.V.
Joles is a private investment firm that is focused on creative start-ups in the food chain. Joles is particularly interested in companies that develop socially responsible concepts on the route from food production to consumption. Current investments include Koppert Cress BV (development and international sales of cress plants and food specialties), Trouw BV (processing plant of gluten-free buckwheat products) and Agxeed BV (development of platform technology for autonomous farming).

About Verdify B.V.
Verdify is a Dutch foodtech company that develops innovative software for enabling personalised nutrition. Verdify operates in harmony with national nutrition guidelines that are applied in the domain of medical and dietary practice. With the tech platform the start-up unlocks the health and sustainability potential of personalised nutrition for a range of consumer groups and for companies in the food sector. The company combines strong expertise in life sciences, dietetics, AI and new business models. For more information, please visit https://www.verdify.co.uk or https://www.swapmeals.com
Verdify verkrijgt €1,3 miljoen voor uitbreiding van Swapmeals®-platform voor gepersonaliseerde recepten
Venlo, Nederland, 13 december 2021
Swapmeals® helpt consumenten met eetwissels in een recept op basis van smaakvoorkeur en nutriëntbehoefte
Verdify uit Venlo heeft €1,3 mln financiering verkregen van Brightlands Venture Partners, Joles en de oprichters van het bedrijf. Verdify zal de financiering gebruiken om het Swapmeals® receptenplatform verder op te schalen. Dit platform stelt consumenten in staat om lekkere en gezonde receptinspiratie op te doen aan de hand van persoonlijke voedingsprofielen.

Volledig op maat
Consumenten zijn steeds vaker op zoek naar een evenwichtig eetpatroon, maar worstelen met de complexiteit van gezonde en duurzame voedselkeuzes. Verdify streeft ernaar dit makkelijker te maken met volledig gepersonaliseerde receptinspiratie. Dit kan op de website Swapmeals.com waar recepten zich automatisch aanpassen aan de voedingsprofielen van consumenten. Persoonlijke gegevens zoals conditie en gezondheid, voedselallergieën, activiteitenniveau, leefstijl, locatie en smaakvoorkeur kunnen worden meegewogen. Swapmeals® biedt een omgeving waar de gezonde en duurzame voedselkeuze de standaard wordt. De persoonlijke voedingsprofielen kunnen eenvoudig door consumenten worden aangemaakt op de Verdify-website en geactiveerd op Swapmeals.com om recepten op maat te vinden. De benodigde ingrediënten kunnen direct worden besteld bij aangesloten supermarkten.
De software
Het platform wordt aangedreven door Verdify's software voor receptpersonalisatie. De software kan de samenstelling van vrijwel alle recepten op internet in kaart brengen en deze aanpassen aan de voedingsprofielen van consumenten. Het zogenaamde swap-algoritme vervangt niet-passende ingrediënten door geschikte alternatieven, terwijl een ander algoritme de kookinstructies aanpast aan de nieuwe samenstelling. De software zorgt ervoor dat het resultaat nog steeds goed smaakt én overeenkomt met de gekozen voorkeuren. Verdify kan de technologie ook toepassen op andere receptenplatformen en daar tevens recepten koppelen aan het digitale winkelwagentje van lokale retailers.
Plannen voor groei
De investering zal worden gebruikt voor het opschalen van het Swapmeals®-platform, inclusief introductie van het concept in de gezondheidszorg. Zo kunnen consumenten binnenkort voedingsadvies van een diëtist of arts ontvangen in hun Verdify-voedingsprofiel. Verder wordt het mogelijk gemaakt om het profiel aan te vullen met gegevens van wearables en bijvoorbeeld een bloedtest. Verdify ontwikkelt daarnaast een propositie voor bedrijven in de voedingsindustrie. Zij krijgen de mogelijkheid om hun merken te promoten in de gepersonaliseerde recepten op Swapmeals®, waarmee een podium wordt gecreëerd voor producten waar Verdify achter staat.
Kim de Boer, Partner bij Brightlands Venture Partners: "Wij zien dat Verdify inspeelt op een duidelijke en logische marktbehoefte aan gepersonaliseerde voeding. Dit is een snel schaalbaar bedrijf en Verdify is een voorloper. Brightlands Venture Partners is een ecosysteem-investeerder en we geloven dat de interactie van het bedrijf met het Brightlands-ecosysteem op het gebied van gepersonaliseerde voeding en beschikbare AI-kennis gunstig zal zijn voor de time-to-market en de slaagkans van het bedrijf".
Jochem Bossenbroek, CEO van Verdify: "We hebben een sterke partner gevonden in Brightlands Venture Partners en kijken er naar uit gezamenlijk toe te werken naar een positieve impact met gezond en duurzaam eten. Met de nieuwe investering en toegang tot dit innovatieve ecosysteem kunnen we niet alleen opschalen, maar ook een brug slaan tussen het zorgdomein en de voedingssector".
Over Brightlands Venture Partners
Brightlands Venture Partners (BVP) is de fondsmanager van Brightlands Agrifood Fund en is een zogenaamde ecosysteeminvesteerder. BVP investeert in bedrijven die profiteren van en bijdragen aan de Brightlands campussen in het zuiden van Nederland. Fondsen onder beheer zijn BVP-fonds IV, Brightlands Agrifood Fund, Chemelot Ventures en Limburg Ventures.
Over Joles B.V.
Joles is een particuliere investeringsmaatschappij die zich richt op creatieve start-ups in de voedselketen. Joles is vooral geïnteresseerd in bedrijven die maatschappelijk verantwoorde concepten ontwikkelen in het traject van voedselproductie naar consumptie. Huidige investeringen zijn onder meer Koppert Cress BV (ontwikkeling en internationale verkoop van tuinkersplanten en voedingsspecialiteiten), Trouw BV (verwerkingsbedrijf van glutenvrije boekweitproducten) en Agxeed BV (ontwikkeling van platformtechnologie voor autonome landbouw).
Over Verdify B.V.
Verdify is een Nederlands foodtech bedrijf dat innovatieve software ontwikkelt voor receptpersonalisatie. Verdify handelt in overeenstemming met de landelijke voedingsrichtlijnen die worden toegepast in de medische- en voedingspraktijk. Met het technologieplatform ontsluit het bedrijf de potentie van gepersonaliseerde voeding voor consumenten, de gezondheidszorg en bedrijven in de voedingssector. Verdify combineert een sterke expertise in de levenswetenschappen, diëtetiek, AI en nieuwe businessmodellen. Ga voor meer informatie naar https://www.verdify.nl of https://www.swapmeals.com