Koch Technology Solutions And Ioniqa Technologies Partner To Disrupt Plastics Industry Through Advanced PET Upcycling Technology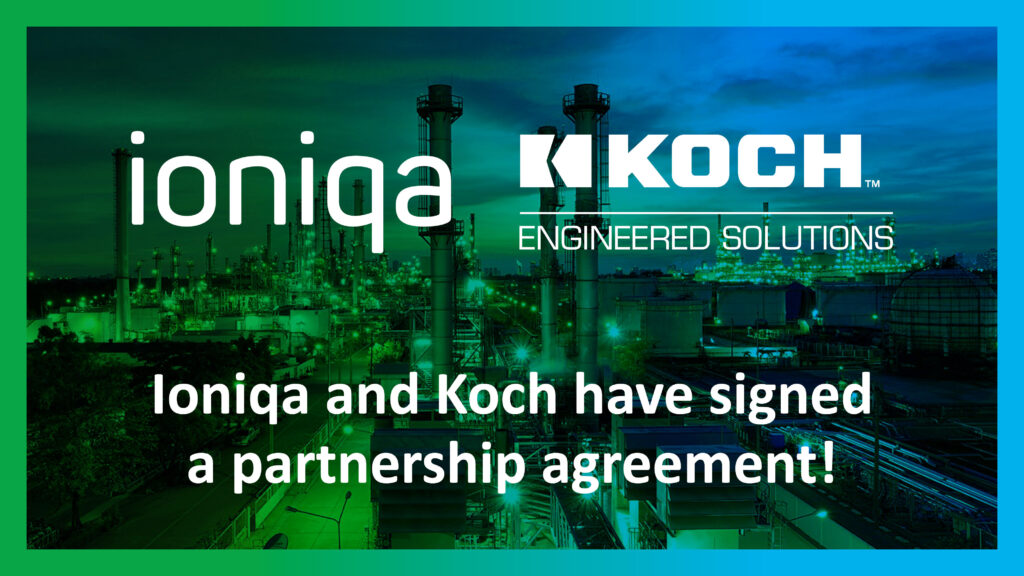 Please scroll down for Dutch version
September 13, 2022
Koch Technology Solutions (KTS), a Koch Engineered Solutions company, and Ioniqa Technologies B.V. (Ioniqa) today announced a partnership to scale up and commercialize Ioniqa's advanced Polyethylene Terephthalate (PET) recycle technology in the plastics industry. As part of this collaboration, KTS has committed to invest up to €30M in Ioniqa.
Ioniqa has developed an innovative process that utilizes low-grade post-consumer PET to infinitely produce a feedstock that displaces virgin raw materials used in the production of polyester products. Ioniqa has successfully demonstrated this technology in The Netherlands' 10KTA production facility.
"KTS has a long history in the polyester industry, and we recognize the value proposition of this disruptive technology that will fundamentally change how recycling is done," said Adam Sackett, President of KTS. "With an aligned vision on the future of PET recycling, we're excited to launch this partnership with Ioniqa and leverage our complementary capabilities to advance solutions which are tailored to the needs of the market.
"KTS and Ioniqa's partnership will work to address the growing demand for recycled content in the 30 million metric tonnes per annum PET market. Ioniqa's technology offers a solution to PET waste that is currently non-recyclable, turning the waste into materials suitable for high quality food grade applications such as beverage bottles. KTS and Ioniqa consider the technology as a disruptor in the PET industry providing a sustainable economic recycle proposition to conventional manufacturing routes. The partnership will drive a circular process that addresses environmental impacts of the current PET industry.
Tonnis Hooghoudt, CEO and Founder of Ioniqa said "After the scaling of our technology to a 10KTA depolymerization plant in The Netherlands, this KTS partnership is a major stepping stone for Ioniqa in commercializing its technology on a global level. Our expertise in breaking down plastic waste into virginlike monomers matches seamlessly with KTS' track record in designing and licensing PET production processes worldwide. We believe that together we can meet the strong market demand for recycled PET materials by jointly providing licenses and cleaning up the planet".

About Ioniqa
Ioniqa is a clean-tech spinoff from the Eindhoven University of Technology (The Netherlands), specialized in creating value out of waste by using its proprietary circular technology. With a cost-effective process, Ioniqa is able to close the loop for plastics, starting with PET plastics. This award-winning innovation transforms all types and colors of PET waste into valuable sources for 'virgin-quality' recycled PET. Upcycling processes for other types of plastic are being researched and expected to be launched in the near future. More information Ioniqa.com
About Koch Technology Solutions
Koch Technology Solutions (KTS) is the technology licensing arm of Koch Engineered Solutions (KES). KTS creates value for our customers across a growing portfolio of technologies including the polyester value chain, the refining industry and 1,4-Butanediol plus its derivatives. We can combine our exclusive technologies, expertise, and capabilities with those of other KES companies to provide overall solutions to optimize your capital investments and existing manufacturing assets. More information is available at KochTechSolutions.com
About Koch Engineered Solutions
Koch Engineered Solutions (KES) delivers superior value in developing, integrating, and applying innovative technical and service solutions for industrial value chains. KES offers uniquely engineered solutions in construction; mass and heat transfer; combustion and emissions controls; filtration; separation; materials applications; automation and actuation. KES is a subsidiary of Koch Industries, one of the largest private companies in the world. More information is available at KochEngineeredSolutions.com
PET (Plastic) Industrie opgeschud door Partnerovereenkomst tussen Koch Technology Solutions en Ioniqa Technologies
Eindhoven (NL) / Wichata (VS), September 13, 2022
Vandaag kondigen Koch Technology Solutions (KTS), een dochterbedrijf van Koch Engineered Solutions, en Ioniqa Technologies B.V. (Ioniqa) een samenwerkingsovereenkomst aan om Ioniqa's PET upcycling technologie verder op te schalen voor de plastic industrie. Binnen deze samenwerking heeft KTS zich gecommitteerd om tot een bedrag van 30M EUR te investeren in Ioniqa.
Ioniqa heeft een innovatief proces ontwikkeld om zeer laagwaardig PET afval oneindig te recyclen waarbij een zeer zuivere grondstof wordt geproduceerd en daarmee de oliegebaseerde grondstoffen voor de productie van PET polyester kan vervangen. Ioniqa heeft deze technologie op een 10KT/jr schaal in Nederland succesvol gedemonstreerd.
"KTS heeft een lange geschiedenis in de polyester industrie en we zien de waarde die deze disruptieve technologie heeft voor de industrie om recycling fundamenteel te veranderen," aldus Adam Sackett, President van KTS. "Met een gezamenlijke visie over de toekomst van PET recycling, gaan we in volle overtuiging met Ioniqa samenwerken waarbij elkaars capaciteiten complementair zijn om deze technologie naar de markt te brengen."
Met deze KTS en Ioniqa partnerovereenkomst kan aan de groeiende vraag naar recycled PET materiaal in de PET markt worden voldaan, waar jaarlijks 30M ton van wordt geproduceerd. Ioniqa's technologie levert een oplossing voor huidig PET plastic afval wat niet te recyclen is en zo verwerkt kan worden tot materialen van zeer hoge kwaliteit waaronder levensmiddelenverpakkingen zoals PET flessen. KTS en Ioniqa beschouwen de technologie als disruptief voor de PET industrie dat tegelijk een duurzame economisch propositie biedt vergeleken met conventionele productie methodes. De partners zullen gezamenlijk een circulair process commercialiseren dat de klimaatimpact van de huidige PET industrie verder zal minimaliseren.
Tonnis Hooghoudt, CEO en Founder van Ioniqa zei "Na het opschalen van onze technologie naar de 10KT/jr depolymerizatiefabriek in Nederland, is dit partnership met KTS een enorme stap voor Ioniqa om onze technologie ook wereldwijd te commercialiseren. Onze kennis in het afbreken van PET tot zeer zuivere PET grondstoffen sluit naadloos aan op de ervaring van KTS in het ontwerpen en licenseren van PET productieprocessen. We hebben het vertrouwen erin dat we gezamenlijk aan de sterke vraag naar recycled PET plastic kunnen voldoen en daarmee ook de planeet een stukje schoner maken'.
Over Ioniqa 
Ioniqa is een clean-tech spin-off van de Technische Universiteit Eindhoven die waarde creëert vanuit PET plastic afval middels hun gepatenteerde circulaire technologie. Met een kosteneffectief proces is Ioniqa in staat om allerlei soorten plastic te recyclen, te beginnen met PET plastic. Deze innovatie zet alle soorten en kleuren PET plastic om tot hoogwaardige grondstoffen voor recycled PET van voedselkwaliteit. Upcycling processen voor andere plastics worden op dit moment onderzocht en gecommercialiseerd in de nabije toekomst. Voor meer informatie zie Ioniqa.com
Over Koch Technology Solutions 
Koch Technology Solutions (KTS) is de technologie licensering tak van Koch Engineered Solutions (KES). KTS creëert waarde voor zijn klanten over een breed portfolio aan technologieën, waaronder de polyester waardeketen, raffinaderij, en de 1,4-butanediol en derivaten daarvan. We combineren onze exclusieve technologieën, expertise, en capaciteiten met andere bedrijven binnen KES. Op deze manier kunnen we brede oplossingen vinden om maximale waarde te creëren bij de investeringen voor (bestaande) assets van onze klanten. Voor meer informatie zie KochTechSolutions.com
Over Koch Engineered Solutions 
Koch Engineered Solutions (KES) levert superieure toegevoegde waarde in het ontwikkelen, integreren en toepassen van innovatieve technische en service oplossingen in de industriële waarde ketens. KES biedt unieke ingenieurs oplossingen voor bouw; massa en hitte transport, verbranding en emissie controle; filtratie; scheidingstechnologieën; automatisering en bediening. KES is een dochterbedrijf van Koch Industries, een van werelds grootste private ondernemingen. Voor meer informatie zie KochEngineeredSolutions.com