Exit: Isobionics acquired by BASF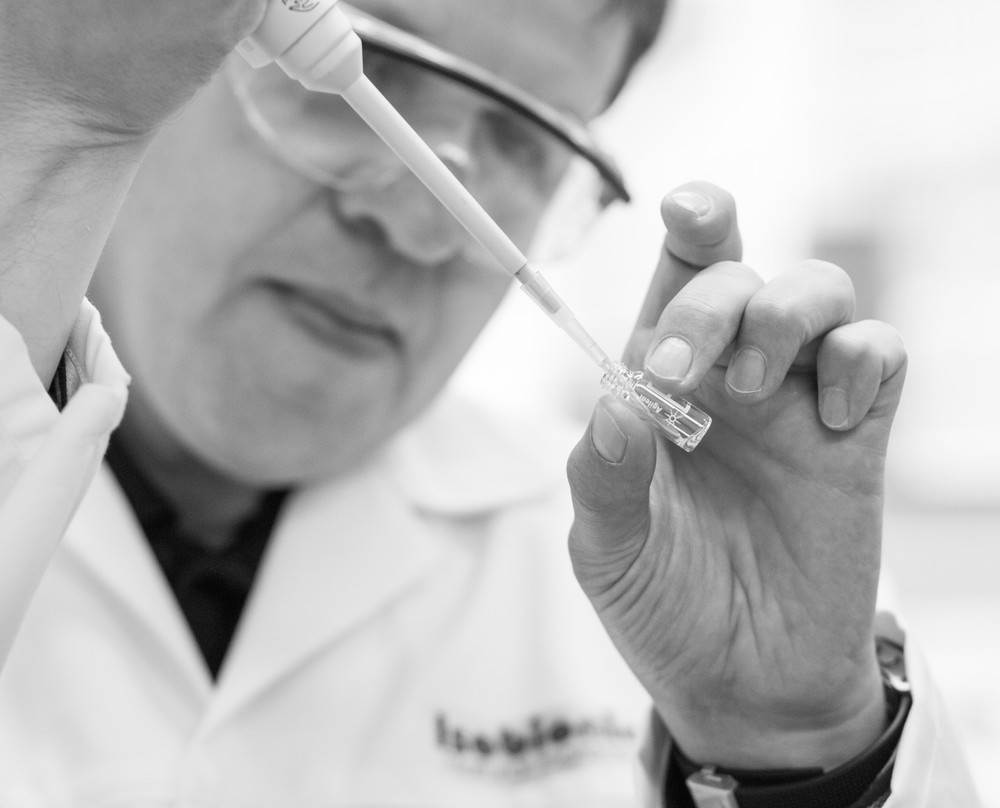 For Dutch please scroll down
Dutch biotech company Isobionics BV has been sold to the multinational chemical company BASF. Isobionics, located at the Brightlands Chemelot Campus in Geleen, Netherlands, develops and supplies flavors and fragrances made by microorganisms in a fermentation process.
The company  was founded in 2008 by CEO Toine Janssen and Brightlands Venture Partners (via its Limburg Ventures fund). In subsequent financing rounds other investors joined: LIOF, Brabant Life Sciences Seed Fund, informal investors, DSM Venturing and Van Herk Ventures.
By acquiring Isobionics, BASF enters the market for natural F&F ingredients. Being known as a leading supplier of synthetic aroma ingredients, BASF now broadens its portfolio with natural ingredients such as nootkatone (grapefruit) and valencene (orange flavor). BASF intends to advance the technology for biotech-based aroma ingredients by combining its own R&D excellence and broad market access with the know-how and expertise of Isobionics.
"BASF is known for its high-quality standards, traceability and excellent regulatory know-how," says Toine Janssen, founder of Isobionics. "By combining our biotech-based product portfolio and strong development pipeline with BASF's expertise and its global market reach, we can provide the natural ingredients market with even more innovations and boost our growth."
Unique technology and high purity
The main advantages of producing flavor and fragrance through a fermentation process are security of supply and high purity while using renewable materials.
Support from the start
LIOF and Brightlands Venture Partners have supported Isobionics from the start and during the tough years of technology development. Casper Bruens, director at Brightlands Venture Partners says: "Isobionics has grown into a leading company in fermentation-based flavors and fragrances, thanks to a strong team, supportive investors and the fruitful international environment at Brightlands Chemelot Campus".
Henk Vroemen, investment manager at LIOF: "We are very pleased to see that Isobionics has developed from a start up to a successful sustainable company becoming part of multinational BASF. We have invested in Isobionics with our LIOF Participation fund and an Innovation Fund of the Province of Limburg. We trust this next step enables Isobionics to develop new innovative products and create additional jobs in this region".
About Brightlands Venture Partners
Brightlands Venture Partners (BVP) is the fund manager of Limburg Ventures and is a so-called ecosystem investor. BVP invests in companies benefiting from and contributing to the Brightlands campuses in the south of the Netherlands. Funds under management are Limburg Ventures, Chemelot Ventures and Brightlands Agrifood Fund.
For more information please contact:
Casper Bruens – Director
+31 6 2266 7882
cb@brightlandsventurepartners.com
www.brightlandsventurepartners.com
About LIOF
LIOF is the development and investment agency of the Dutch province of Limburg. Its primary objective is to develop and promote the Limburg economy. For this purpose, LIOF makes available venture capital, supports innovative projects of small and medium-sized enterprises (SMEs) and attracts foreign investors.
For more information contact:
Henk Vroemen – Investment Manager
+31 6 5344 3672
henk.vroemen@liof.nl
www.liof.nl
Isobionics overgenomen door BASF
Het Nederlandse biotechbedrijf Isobionics BV uit Geleen wordt overgenomen door chemie-multinational BASF. Isobionics, gevestigd op de Brightlands Chemelot Campus in Geleen (Nederland), ontwikkelt en levert geur- en smaakstoffen die worden gemaakt via fermentatie.
De onderneming is opgericht in 2008 door directeur Toine Janssen samen met financier Brightlands Venture Partners (via haar fonds Limburg Ventures). In een aantal volgende financieringsrondes traden andere investeerders toe:  LIOF, Brabant Life Sciences Seed Fund, privé-investeerders, DSM Venturing en Van Herk Ventures.
Met de overname van Isobionics betreedt BASF de markt voor natuurlijke ingrediënten voor geur- en smaakstoffen. BASF staat al bekend als een marktleider voor synthetische ingrediënten en verbreedt de portfolio met natuurlijke ingrediënten zoals nootkatone (grapefruit) en valencene (sinaasappel). BASF wil de technologie voor biotechproductie van geur- en smaakstoffen verder ontwikkelen door haar toponderzoek en distributiekracht te combineren met de kennis en expertise van Isobionics.
"BASF staat bekend om haar hoge kwaliteitsnormen en kennis op het gebied van productregelgeving", zegt Toine Janssen, oprichter van Isobionics. "Door het combineren van onze biotech-productportfolio en goedgevulde productpijplijn met de expertise en wereldwijde marktdekking van BASF kunnen we de afnemers van natuurlijke ingrediënten bedienen met nog meer innovaties en daardoor nog sneller groeien."
Geur- en smaakstoffen van de toekomst
De eerste producten van Isobionics waren valencene (sinaasappelsmaak) en nootkatone (grapefruit). In de laboratoria op de Brightlands Chemelot Campus ontwikkelde de onderneming nog een hele reeks van zogenaamde isoprenoïden voor gebruik in geur- en smaakstoffen. Deze zullen in de komende maanden en jaren de markt bereiken.
Bijzondere technologie en hoge zuiverheid
Met haar fermentatietechnologie is Isobionics uniek in de wereld. De belangrijkste voordelen van het maken van geur- en smaakstoffen via dit fermentatieproces zijn leveringszekerheid – onafhankelijk van oogsten of plantziekten – en de relatief lage kosten.
Ondersteuning vanaf de start
LIOF en Brightlands Venture Partners hebben Isobionics gesteund vanaf de start en gedurende vele zware jaren van intensieve technologie-ontwikkeling. Casper Bruens, director van Brightlands Venture Partners zegt: "Isobionics heeft zich ontwikkeld tot de wereldleider in fermentatieve productie van geur- en smaakstoffen, dankzij een sterk team, een groep betrokken investeerders en de vruchtbare omgeving van de Brightlands Chemelot Campus".
Henk Vroemen, investment manager bij LIOF: "Wij zijn verheugd om te zien dat Isobionics zich heeft ontwikkeld van een startup tot een succesvolle duurzame onderneming die nu deel uitmaakt van multinational BASF. We hebben in Isobionics geïnvesteerd vanuit ons Participatiefonds en vanuit een Innovatie Fonds van de Provincie Limburg. Wij verwachten dat deze volgende stap Isobionics in staat zal stellen om nieuwe innovatieve producten te ontwikkelen en nieuwe banen te creëren in deze regio".
Over Brightlands Venture Partners
Brightlands Venture Partners is de fondsmanager van Limburg Ventures en is een zogeheten ecosysteeminvesteerder. Het investeert in innovatieve bedrijven die kunnen profiteren van, en bijdragen aan de Brightlands-campussen in zuid-Nederland. Limburg Ventures, opgericht in 2004, was het eerste fonds van Brightlands Venture Partners; het is nu in de exitfase. Latere fondsen zijn Chemelot Ventures (2014) en Brightlands Agrifood Fund (2017).
Voor meer informatie:
Casper Bruens – Director
+31 6 2266 7882
cb@brightlandsventurepartners.com
www.brightlandsventurepartners.com
Over LIOF
LIOF is de regionale ontwikkelingsmaatschappij van de Provincie Limburg. Het primaire doel is het ontwikkelen en versterken van de Limburgse economie. Om dit te bereiken verstrekt LIOF durfkapitaal, ondersteunt het innovatieprojecten van MKB-ondernemingen en trekt het ondernemingen en investeringen uit het buitenland aan.
Voor meer informatie:
Henk Vroemen – Investment Manager
+31 6 5344 3672
henk.vroemen@liof.nl
www.liof.nl